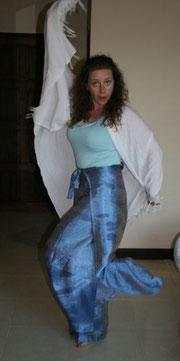 I've been bursting to write this blog post all day, since I woke up at 5.50am, ready for my yoga :)
I've been in Thailand for almost a month now and each day keeps on getting better and better!  I'm with one of my closest friends in the world, I'm living on a tropical island, I'm able to work online from here & continue to coach clients around the other side of the world!
Today has been the best birthday ever- this is my first birthday in the sun, and I'm beginning to suspect that last years birthday in the European winter might just be the last one I ever have in the cold. 
I woke and the first words I heard were "Happy Birthday" from my yoga buddy.  I received a beautifully written note from her, which touched my heart, but that wasn't all- the card also contained a voucher to get a Thai massage from the local massage girls we've gotten to know.   I had that massage an hour ago, and it was the best massage I've had EVER!  When it was finished I wanted to lie there for another hour & a half and get it all over again!
My friend Magnus hired a limousine for the day- to bring me wherever I want (see the pic below).  He brought me birthday present shopping where I got myself a lovely white board to help keep me organised & a laptop fan to keep my laptop cool in the tropical heat.   Then I went on a hunt to find a bikini- I've never worn one ever before!  Sadly there wasn't any in a design I liked in my size, but that led me to explore the clothes a little more...
And gave me an excuse to return to the beautiful blue traditional Thai trousers I'd seen the day we arrived.  I did the customary haggling and got 150Bhatt knocked off the price (Yayy me!!)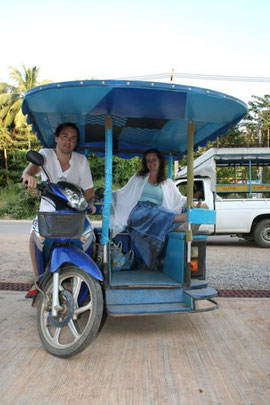 I'm writing this blog now and shortly I'll be going for dinner with my friends, and I'm really looking forward to a quiet meal with people I like, love, and respect.  There's a beach party later at one of the bars (there usually is most nights lol!) so we might even go to that too.
The most precious thing about this birthday is the gift my friend gave me yesterday.  It was a gift of healing.  Yesterday we worked for hours processing a block I'd had preventing me from feeling as happy as I could be.  A block which had me valuing myself as worthless for many years of my life.
This morning when I woke I knew it was MY Birthday- the one day of the year that I get to celebrate the day I was born.  The day I chose to enter into this life, become part of this world.  I am eternally grateful for all my choices in this life & past lives, for without them I would not be where I am at today, and to be quite frank, right now I'm in bliss!! 
Thanks to the healing I did yesterday I don't feel guilty for expressing my happiness, I don't feel the need to apologise.   I feel happy that I can share the joy I have in my life, and I feel grateful that through the gift I have of being able to coach people in reaching their highest & grandest visions of their lives that, a little piece at a time I am making the world a better place.  Let the change start with me.