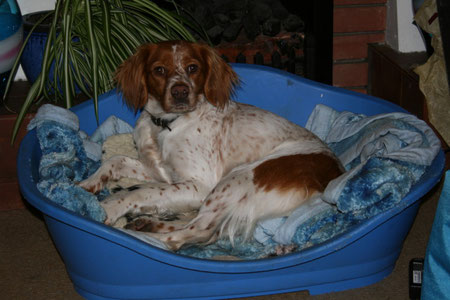 I am so grateful to everyone on twitter & facebook that helped me find Sasha.  I received so many suggestions & kind words I was overwhelmed.
Some of the suggestions included posting on websites that I never knew existed-
and of course I rang the DSPCA, local vets, Garda stations etc but no one had found Sasha.
I honestly didn't think I'd ever see her again and I just hoped that she'd been found by someone who would give her a nice new home & that she was safe.
Friday I had to travel to Cork to deliver a "Tweeting for Business Success" twitter training and then after I was meeting up with some of the girls I've made friends with on Twitter for a #twineup (Tweetup with wine!)
On my way to the #twineup I received a phone call from a lovely lady called Brenda who had a little brown & white dog who'd been found in the Phoenix park.  She asked me did Sasha have a collar, and what colour was it?  I told her green leather- I'd bought it in Italy for her last summer.  So sorry, said Brenda this collar is black- best of luck finding Sasha.
I was really disappointed, but there wasn't anything I could do.
5 mins later Brenda rang back- her collar IS green :)
I was delighted, I couldn't believe it!! Sasha had been found!! 
I can't remember the last time I was so happy about hearing some news!!
Sasha had been found in the Phoenix park very muddy on Thursday morning, near the President's residence & one of the members of staff knew Brenda and knew that she had been looking for a dog so they called her.
Brenda & her 2 teenage children then set about seeing if anyone had lost a dog, because Sasha was obviously someone's pet - not a stray.  
They got onto the internet and found her on www.lostdogs.ie and rang me.  :)
They had taken her to the vet to get her checked out, she got a clean bill of health & the vet guessed she was only a year old- because of the good condition of her teeth (She's actually 3).  She also is chipped, apparently the breeder chipped her as a pup so I just need to register it now!
If it wasn't for twitter & the amazing amount of help & support that I received - and people telling me about the websites for lost dogs I would never have found her.
I am SO grateful, thank you everyone who helped find Sasha. I am so delighted that there is a happy ending to this story!
I use twitter to post links to various things & I use a service www.short.ie that tracks the number of clicks links get- by Friday afternoon Sasha had got over 1,500 clicks from people helping to find her!
I am amazed & overwhelmed at the good spirit and generosity of people who don't even know me or Sasha.
As you can see from the picture she is very happy to be at home again.  When I picked her up on Saturday I've never seen her so excited & delighted to see myself & Goldie.  She doesn't understand how well known she is- this morning on our run someone shouted over to us across the road that they'd seen her in Phoenix park & glad to see we'd been reunited!
Lets hope she's learned her lesson- I certainly have, she's not getting off the lead again at night I can tell you!