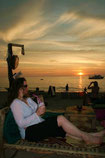 Just over a month ago I was having a conversation with one of my closest friends via Skype IM.  I was sharing the challenges that I was encountering in my personal life & in developing my  business.  My friend casually asked "Why don't you come with me to Thailand?"  Last winter he worked on his online business from Thailand- enjoying the sun, sea, sand and cheap cost of living.  
I thought about it, seriously thought about it, what I would need to do to make that a reality, what value I would get from living in Thailand in the sun over the winter.  After 24 hours I was certain that I definitely wanted to make this work, within 48 hours I'd worked out the logistics of everything.  It would be a tall order- I had 10 days to pack up everything (I'm not returning to the same apartment on my return).  It was a challenge, a real challenge.  
I flew out of Dublin on Nov 18th, I didn't have everything wrapped up 100% perfectly, but I got enough done to make this wonderful opportunity a reality.
Now I'm here, on a sunny tropical Island.  The week before I flew out I talked to my friends at every opportunity about how I would be swimming in the sea every morning.  I said it with pure delight in my voice, the idea of swimming in beautiful warm sea to start my day off was blissful.  And now that's exactly what I'm doing.  Every morning I wake up at 7am, usually before my alarm goes off.  I phone my friends- an early morning wake up call & we all meet on the beach at 7.30am, do yoga for 45 mins, wrap up with pranayama & meditation then go for a swim in the sea.  I finish my morning routine by eating breakfast on a sunny tropical beach.  
Yes, this is bliss.