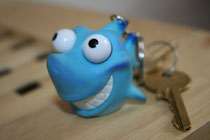 My Smiley Sharkey- how can you look at him and not smile? It's infectious, his big bobbly happy shiny eyes and huge happy grin, they are symbols of the joy he is brimming with.
Even though you know shark's teeth are razor sharp killing machines, you know this sharkey- My Blue Smiley Sharkey Sharkey is a friendly sharkey.
What's even more cool about Smiley Sharkey is that he came to live with me as a gift from a friend.  My friend Mr Llama whom I've never met in person, because we're twitter friends. We regularly converse, chat, joke, laugh together online while being hundred's and sometimes thousands of miles apart. And when I needed a key ring I asked Mr Llama if he had one to trade, "No" he said, "but I'll send you one anyway" Awesome!
Another really cool thing is that his daughter intervened at the purchasing stage and made sure Mr Llama bought the Blue Smiley Sharkey for me, not the pink (ughh!) key ring he was about to buy! Yayy!
My Smiley Sharkey is not only a joyful happy friendly sharkey; he also represents those elements in my friendship with Mr Llama.
His big cheesy grin couldn't be any wider, even if he tried real extra hard & held his breath and wished and wished and wished, his smile is already at maximum capacity.
His eyes pop out too- when you squeeze his belly. Seeing his eyes pop out makes me feel happy :) (see pic below)
 [Mr Smiley Sharkey was not harmed in the process of popping his eyes out, but kids please don't try this at home]
As I look at my Smiley Sharkey now, I notice that he is holding my keys (He is after all, a key ring, as well as a very happy Smiley Sharkey). As I notice him holding my keys, I have a moment of insight- happiness holds the keys to success.
There is no point, no rhyme, nor reason to why Mr Smiley Sharkey is happy, he just is, and he does his job well, and often brings a smile to my face when I retrieve him from my bag to open the door. (Mr Smiley Sharkey makes it SO easy for me to find my keys)
All there is for Smiley Sharkey is joy.  He's just so happy to be alive; it's just his natural state of being.  He hangs around, swimming about a bit but he's the one that hold the keys- the key to his success is Happiness.
So, I ask you this, for it is an important question to ask oneself:
What are the Mr Smiley Sharkey's in your life, the things that bring a smile to your face?