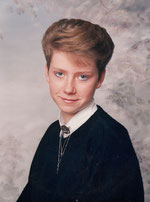 This morning I was asked:
"If there was one thing you wish you would have known at age 19, that you know now that has bettered your life, what would it be?"
Wow! What a powerful little question to draw out and tap into ones own wisdom!  
Here's what I said in response: 
That you are good enough, bright enough, fun enough, pretty enough, magnificent enough.
That you are a beautiful being who really can achieve whatever you want to in your life.
Do what you love, and find a way to earn a living do that, then you will be the richest person alive!
Don't allow your fears to rule your choices, ask for courage and you will receive it.
Making you happy serves those around you, if you neglect yourself you will be miserable, and have a negative effect on all those around you.
Love yourself, you are the most important treasure in your life.
What would you say to your 19 year old self? 
Leave your answers below and I bet you'll come up with some pretty profound wisdom we wish we'd learned a little earlier!  
But then, is it possible to gain wisdom before experience of life?  Whether it is or not, having a resource here, to point young people to, just might help them along life's journey! 

Tell them here what you'd love to have known when you were their age!